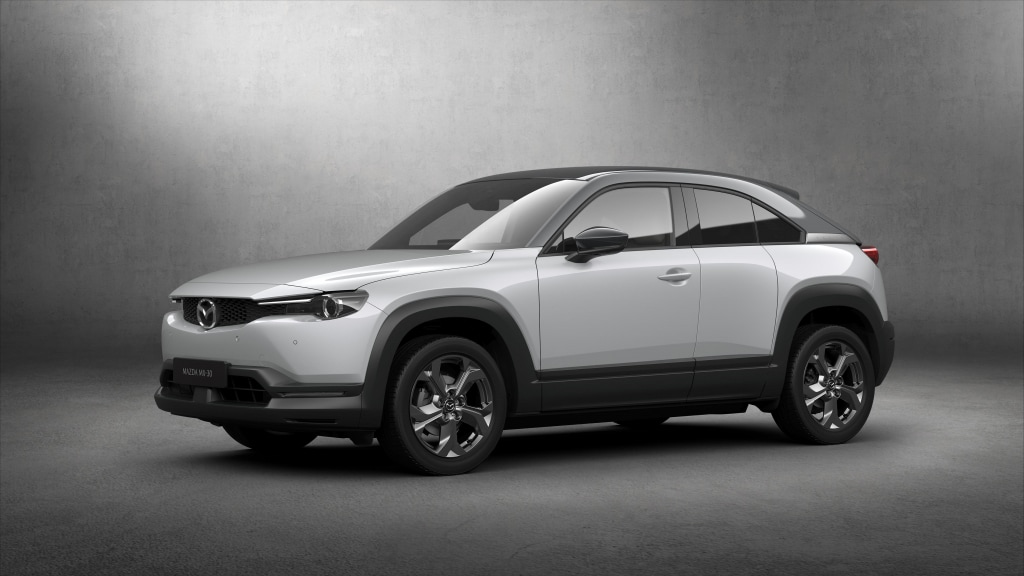 This year's Tokyo Motor Show was home to the unveiling of the first-ever Mazda mass-production battery electric vehicle (EV): the all-new Mazda MX-30! It uses the same SKYACTIV®-Vehicle Architecture as the new-gen Mazda3, except it adds all-new e-SKYACTIV® electric-drive technology that runs solely on electric power.
Powering this electric SUV is an electric motor, a lithuim-ion battery pack with an onboard cooling system, an inverter & a DC/DC converter to help you reduce your carbon footprint significantly. You can charge the Mazda MX-30 EV using either AC power or a more rapid method via DC power.
The e-SKYACTIV® electric-drive tech is tuned to Mazda's Jinba-ittai driving experience that's smooth every ride. Reinforcing that is the use of e-GVC Plus, an EV-tuned version of Mazda's G-Vectoring Control, and a motor pedal that uses an electric motor torque control system to give you the speed, acceleration & deceleration you desire.
But the Mazda MX-30 is about more than just running on no gasoline.
Mazda MX-30 Design
The Mazda MX-30 EV's look based on the "Human Modern" design concept combining the beautiful handcrafted forms that the Mazda Kodo - Soul of Motion design style is known for with an expressive direction focusing on strength & beauty.
The front end is simple but strong, with the Mazda logo at the center of the grille being where all reflections & element converge. The deep sculpted form around the headlamps bring a new vitality to the MX-30, like a jolt of electricity similar to what charges the vehicle.
Other exterior appearance details that make this Mazda stand out from the rest include:
D-pillars sweeping down at a sharp angle to blend the cabin & blacked-out framed roof
A-pillars standing boldly upright while flowing with a "Charge and Retreat" expressions
Surfaces with a built-in bold curve
3D rear combination lamp design
Center pillar-less freestyle doors that provide a more lightweight look & added versatility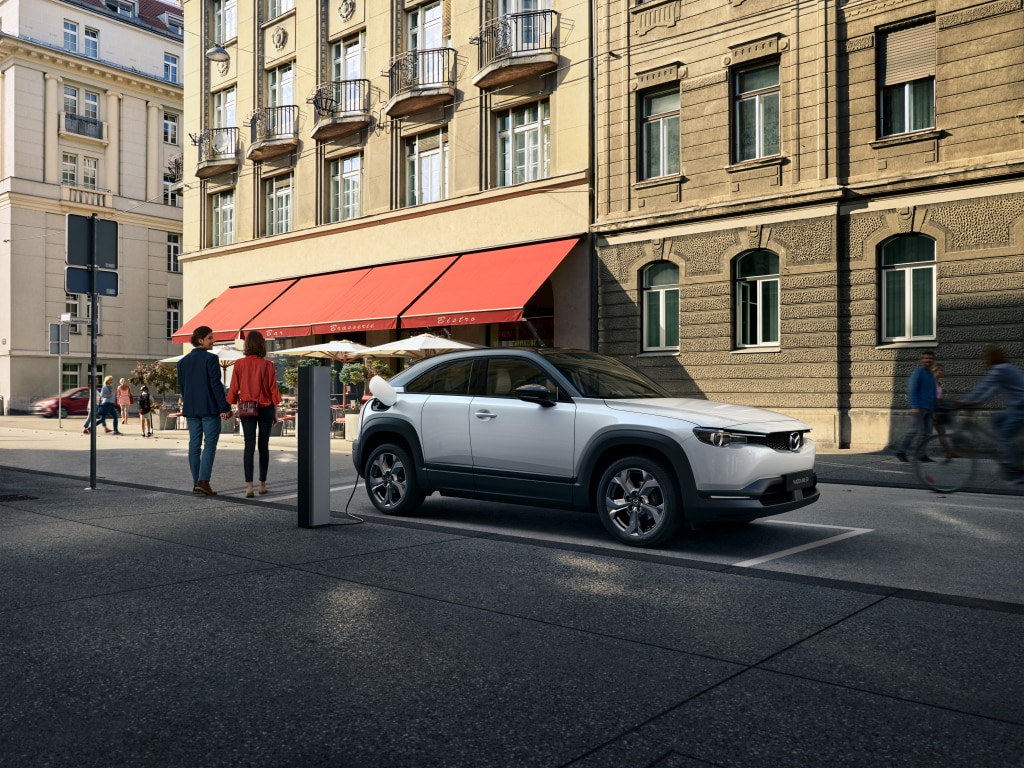 The Mazda MX-30 interior achieves an atmosphere of spaciousness & openness thanks to the shape of the aforementioned freestyle doors & the use of some carefully-chosen environmentally-friendly materials such as heritage cork & an exclusive fabric made from recycled PET bottles.
The front row features a driver-centric cockpit layout with a floating center console, upper instrument panel section, meter hood & related trim, while the rear row offers a design similar to a couch. All of this is centerpieced by a new 7" touchscreen display.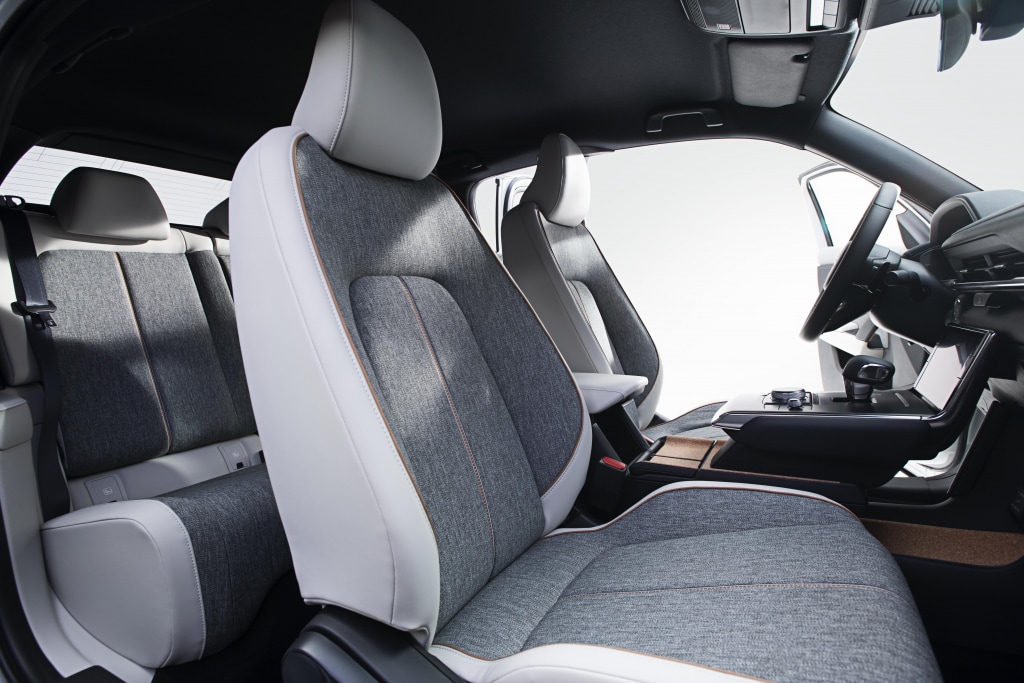 Mazda MX-30 Interior Features
Let's start off with the touchscreen that's innovative since it's also home to the air conditioning controls including the temperature, airflow and seat heater adjustments. The graphics on the display also change to match the time of day & outside temperature to get you in the mood to drive.
In terms of storage space, you can take advantage of the luggage area that can fit 4 carry-on suitcases and a sub-trunk under the floor to storing smaller items. You can also use the dual USB ports & 12-volt power socket on the front of the floor console to charge your mobile devices, while the onboard 150-W AC power outlet lets you plug in devices with larger batteries like laptops & drones.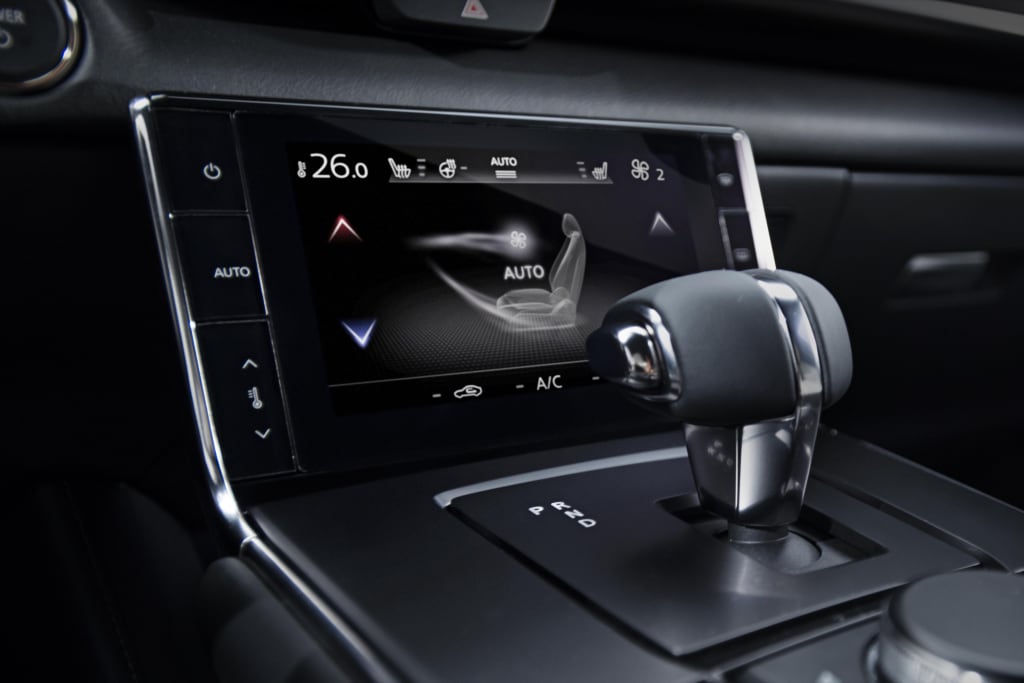 In terms of safety, the Mazda MX-30 takes the i-ACTIVSENSE® suite of accident-prevention features to the next level. For one, Smart Brake Support adds a Turn-Across Traffic function that helps reduce speed or even bring the SUV to a stop when turning left or right and a vehicle, pedestrian or cyclist is sensed.
This electric SUV also brings innovation in the form of Emergency Lane Keeping. This feature uses all-new Road Keep Assist to keep your vehicle on the right track even when lane markers aren't present and Blind Spot Assist to help prevent a collision when changing lanes when there's another car in your blind spot.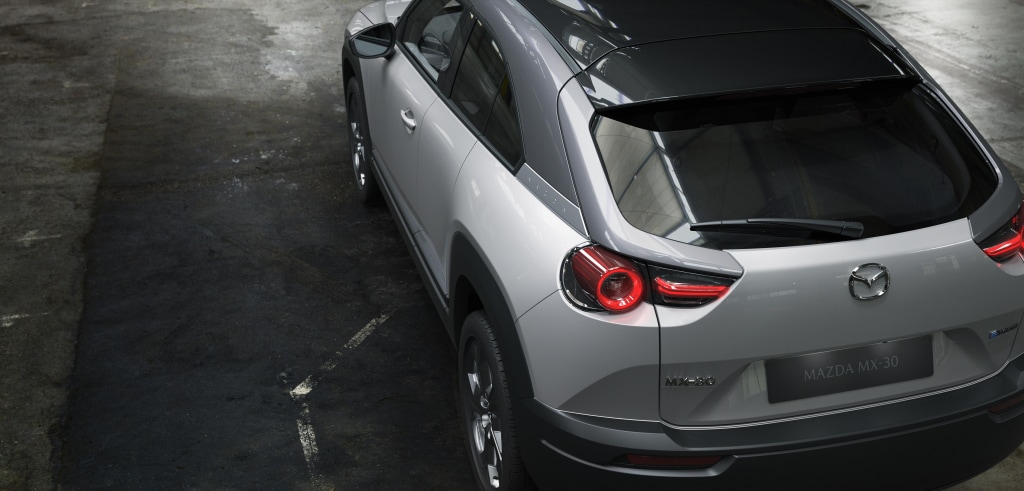 ?
If a collision does occur, you'll be protected thanks to the use of 1,310 MPa-class & other ultra-high-tensile steel components, efficient energy-absorbing structures and a safety system that turns off power flow as soon as a collision is detected. The battery is surrounded by a rigid frame & covered by a high-strength material to help prevent potential further injury.
This is the European specification model that we just spoke about, but we're sure the one made for the U.S. will be very similar in its design & feature lineup. Contact Ramsey Mazda today to learn even more about the all-new Mazda MX-30 EV & to keep up to date on this innovative SUV!