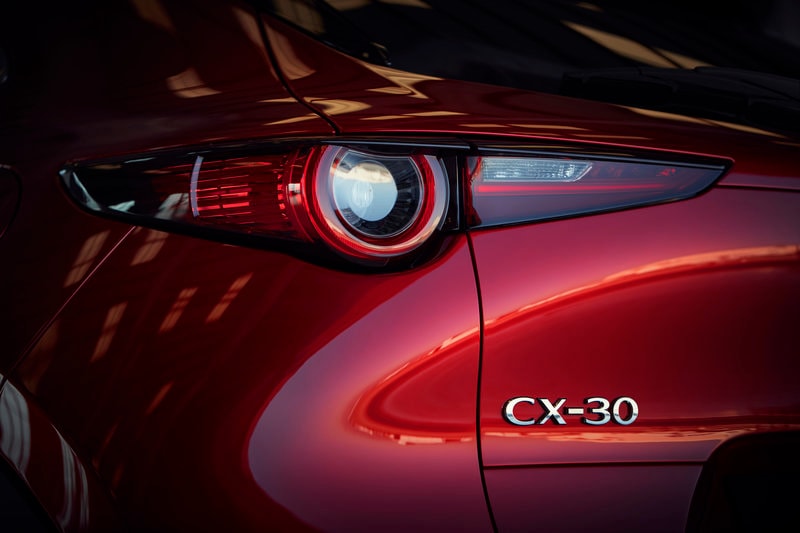 Making its debut at the Geneva Auto Show is the latest compact crossover SUV to join our family of reliable & fun automobiles. We'd like to introduce you to the all-new Mazda CX-30 that'll soon arrive at Ramsey Mazda in Bergen County NJ!
This model combines the minimalistic elegance first seen in the Mazda Vision Coupe concept car with a snug yet airy interior layout, performance giving you the feeling of Ultimate Jinba-ittai' (or that the CX-30 is an extension of your body) and a load of advanced safety, comfort & convenience features. With that being said, let's see what this new Mazda has to offer.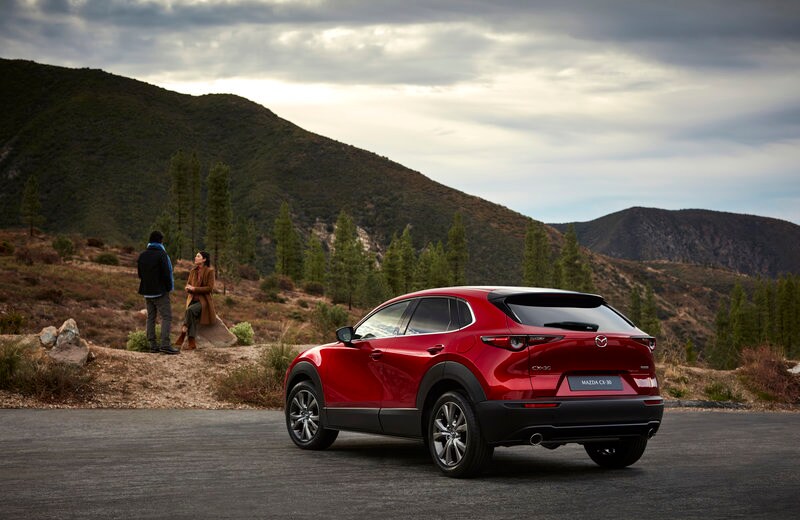 The Look of the Mazda CX-30
The Mazda CX-30's Sleek & Bold design concept is a contradiction in some ways since it beautifully flows like a coupe while retaining the boldness & strength of an SUV. Mazda's Charge and Release design language controls the styling by integrating Yohaku (or the beauty of empty space), Sori (or curves with poise & balance) and Utsuroi (or the play of light & shade)
The exterior of the CX-30 provides the following appearance cues:
Powerful black cladding on the lower body to create flow
Body surfaces beneath the shoulder line reflecting an S-shaped view
Narrowed arch shape for the power rear liftgate
Powerful rear fenders accentuating the inward-tapering rear cabin
Sharp Mazda's signature wing meshing perfectly with the sculpted front bumper contours & triangular motif of the grille
Sleek LED headlamps, rear combination lamps & turn signals
When you sit inside the Mazda CX-30 once it arrives at our dealership serving Wayne NJ, you'll enjoy how the Sleek & Bold appearance theme keeps up inside along with the use of Maor (or empty space) to feel right at home. Here are a few interior design highlights:
Driver-centric cockpit with all 3 meters & the 8.8" widescreen center display angled towards the driver's seat
Wing-shaped hood with refined stitching fitted to the dashboard's upper area for an airy atmosphere
Wide floor console grouping the cupholders, commander control & shift lever
Mazda3-inspired shift panel with 2-layer molding combining a deep smoke-gray color with an engraved metallic pattern
Gently curved knee rest & armrests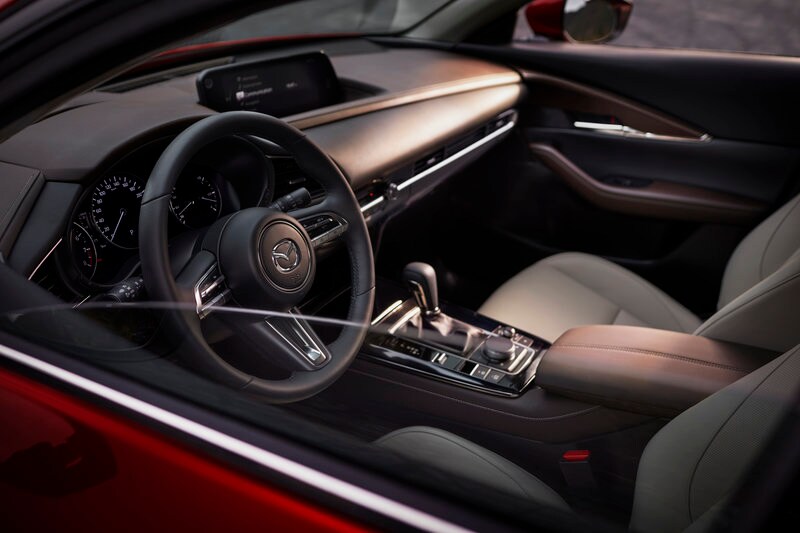 See What's Inside the Mazda CX-30
Besides the elegant yet modernistic design, the Mazda CX-30 will offer 2 audio system choices with redesigned speaker placement based on new studies about how sounds are transmitted through a vehicle's cabin. A 3-way 8-speaker configuration comes standard, while a 12-speaker Bose premium sound system will be available as an upgrade.
As with every other Mazda model at our dealership serving Lodi NJ, i-ACTIVSENSE® is the backbone of collision prevention. The Mazda CX-30 includes an all-new Driver Monitoring system that uses an infrared camera & LED system to see if you're showing signs of being drowsy or fatigued on the road and will sound an alert to make you aware.
Other safety technologies that'll be included in the Mazda CX-30's feature lineup are:
Smart Brake Support to give some assistance in braking your vehicle
Front Cross Traffic Alert to detect vehicles approaching from blind spots in front of your vehicle
Cruising & Traffic Support to assist with accelerating, braking & steering
A body with more high-strength steel than ever before & a hood using a new energy-absorbing inner structure to better absorb impact
Front bumper made to reduce injury of a pedestrian's thighs & shins in the event of a collision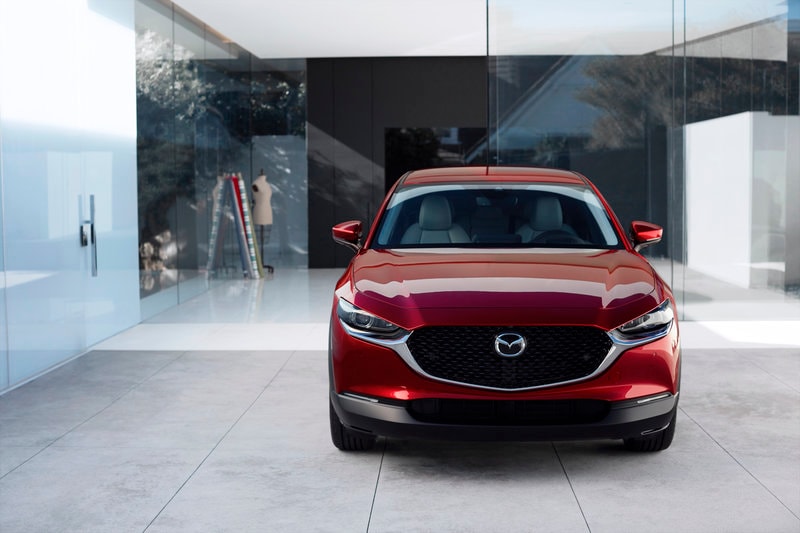 What's Under the Mazda CX-30's Hood
In terms of performance, you'll get a choice of 3 exceptional engines in the Mazda CX-30: SKYACTIV®-G 2.0L gasoline engine, SKYACTIV®-D 1.8L diesel engine & the new SKYACTIV®-X engine to provide a combo of diesel power & smoothness of a gasoline engine. Mazda's M Hybrid system are onboard the SKYACTIV®-G & SKYACTIV®-X to provide maximum fuel efficiency.
One option that's great for North New Jersey in the Mazda CX-30 is i-ACTIV® AWD since it gives you a refined & stable ride in most any driving situation including the snow, icy roads, rain, slush & sleet/hail. It preserves extra grip on all 4 tires in inclement weather while providing smooth acceleration, braking & turning.
The i-ACTIV® AWD system works in harmony with the CX-30's G-Vectoring Control Plus, another Mazda3-inspired feature. G-Vectoring Control Plus enhances the stability of the SUV further by directing yaw moment control through the brakes to better handle driving situations like lane changes & slippery terrain.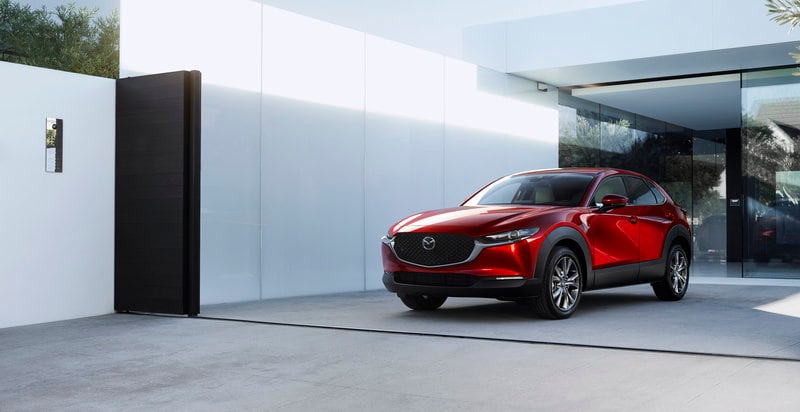 ​
In total, the Mazda CX-30 will offer 9 body color options at our dealership serving Nyack NY & the rest of Rockland County including Soul Red Crystal, Machine Gray & Polymetal Gray that were developed for the new Mazda3. There will also be a few interior color schemes available:
Dark Brown accents in genuine black leather with perforations revealing a brown interior liner
Dark Brown accents in genuine white leather
Dark Blue accents in greige fabric
Dark Blue accents in greige leatherette upholstery
Dark Blue accents in black fabric
Dark Blue accents in black leatherette upholstery
The team at Ramsey Mazda will help you find the Mazda CX-30 that best fits your driving needs and personal tastes. Contact our team today to learn when you'll be able to take one for a test drive at our dealership located on Route 17!