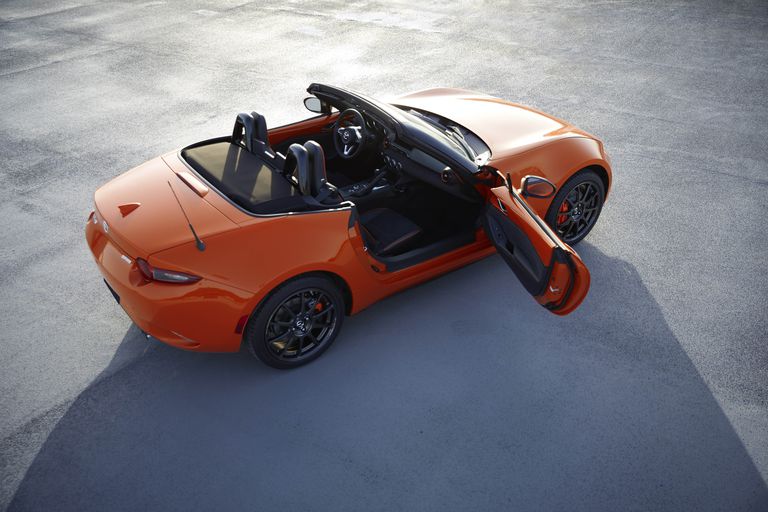 Time really flies when you're having fun and nothing's more fun than driving the Mazda MX-5 Miata with the top down on long stretches of highway like the NJ Turnpike, Garden State Parkway, NY State Thruway and Routes 80 & 287. And it's been 30 years since this roadster first hit the pavement!
And what better way to celebrate than with the 2019 Mazda MX-5 Miata 30th Anniversary Edition model! That's because it evokes the breaking dawn of an exciting new day, which is evident by the exclusive Racing Orange body color that can also be seen in the following features:
Brembo front brake calipers
Nissin rear brake calipers
Accents on the Recaro seats, door trim, dashboard & shift lever
Another unique addition to this model is Apple CarPlay & Android Auto for integrating your smartphone, features not found on other Miatas. Other highlights of the 2019 Mazda MX-5 Miata 30th Anniversary Edition include Rays forged aluminum wheels inspired by the MX-5 Cup race car, a 9-speaker Bose premium audio system and a 30th Anniversary badge with your specific car's serial number on the driver's-side quarter-panel.
There will only be 3,000 Mazda MX-5 Miata 30th Anniversary Edition models sold worldwide, so it's definitely a hot ticket item that'll be offered with soft-top & retractable-hardtop versions being available. This model is based on the sporty 2019 Mazda MX-5 Miata Club that also includes:
MAZDA CONNECT™ infotainment system with a 7" color touchscreen, voice command, Bluetooth streaming audio & more
Heated seating with 3 settings
Blind spot monitoring
Rear cross traffic alert
Mazda advanced key entry & start system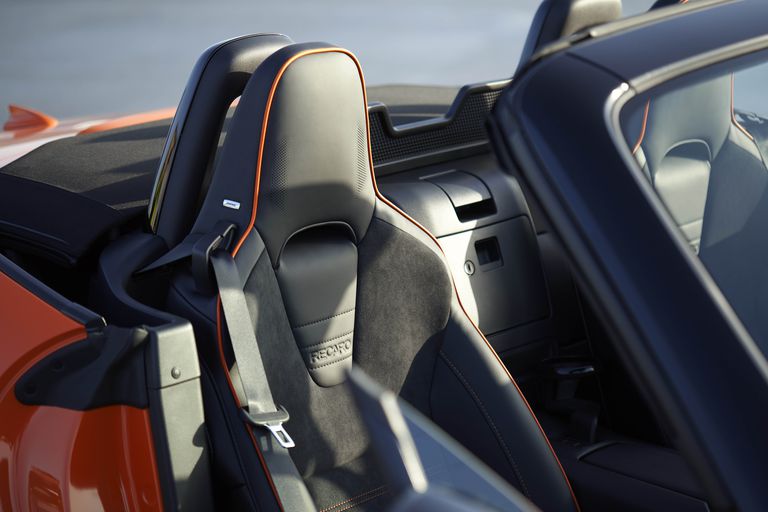 History of the Mazda MX-5 Miata
The Mazda MX-5 Miata was first unveiled at the 1989 edition of the Chicago Motor Show with its theme being "a car that makes everyone happy" and we feel this roadster has done just that over the past 30 years.
The 1st generation of the MX-5 Miata lasted from the 1990 model year through the 1997 model year and the design was inspired by British sports cars from the post-war era. Some highlights of this model include:
115-hp 1.6L 4-cylinder engine paired with 5-speed manual transmission, with an upgrade to a 129-hp 1.8L 4-cylinder engine for the 1994 model year
Lightweight aluminum hood
Optional hardtop
Limited-edition models like the 1991 Special Edition, 1992 Sunburst, 1992 Black Miata, 1993 Limited Edition, 1993-1997 M-Edition & 1997 Special Touring Option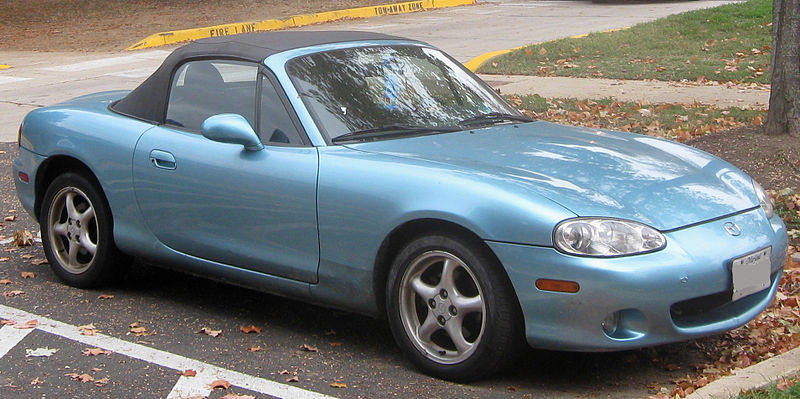 The 2nd generation debuted for the 1999 model year with new non-retractable headlamps, while a facelift occurred in the 2001 model year to provide a more sporty & aggressive look and more supportive seating. The 1999 10th Anniversary Model, 2003 Miata Club Sport and 2004-2005 Mazdaspeed MX-5 were the special editions made for this generation.
The longest-lasting version of the Mazda MX-5 Miata to date is the 3rd generation that started in the 2005 model year that took inspiration from the 2003 Mazda Ibuki concept car's design and upped the ante under the hood thanks to a 2.0L 4-cylinder engine producing up to 170 hp & accelerating from 0-60 mph in just 6.5 seconds. Some other highlights of this generation include:
5-speed manual, 6-speed manual or 6-speed automatic transmission options
Power retractable hardtop debuting in July 2006
2008 model year facelift showcasing a larger grille & restyled backend
2013 model year update offering a re-tuned manual transmission, redesigned exterior & the introduction of the Club trim
Limited editions like the 2006 3rd Generation Limited, 2007 MS-R Package, 2012 Mazda MX-5 Special Edition & & 2014 MX-5 25th Anniversary Edition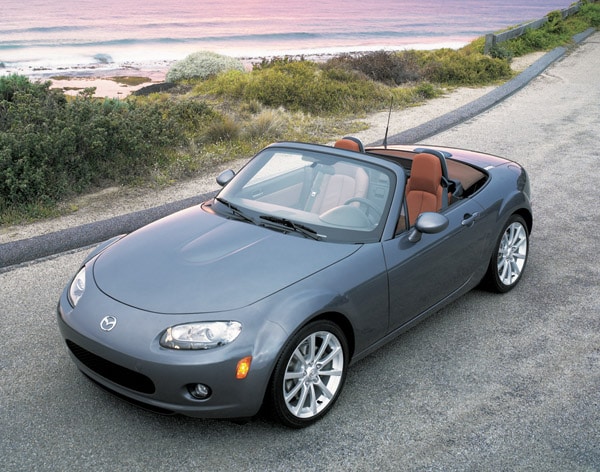 The 4th and current generation of the Mazda MX-5 Miata has been in production since the 2016 model year. The 1 millionth Mazda MX-5 Miata was produced on April 22, 2016 and it was brought on a tour where 240 fans at each destination could physically sign the model. The current 2.0L 4-cylinder engine is capable of generation 181 hp and 151 lb/ft of torque.
Over the years, the Mazda MX-5 Miata has won numerous awards from a variety of automotive critics. Among the most notable ones are:
World Car of the Year
Car and Driver's 10Best & Editors' Choice Awards
Yahoo! Autos Fresh Ride of the Year
Automobile Magazine Automobile of the Year & All-Star
Roadshow by CNET Editors Choice
MotorWeek Drivers' Choice Award
New York Daily News DNA Award
Red Dot Best of the Best Award: Product Design
The Daily Telegraph Car of the Year