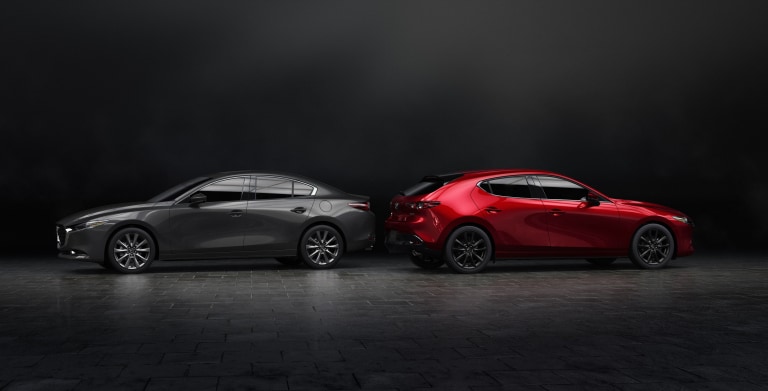 Debuting at the 2018 Los Angeles Auto Show, the all-new 2019 Mazda3 surely turned heads because of all of the amazing updates you can find. From the design and engine choices to the features you can get, you'll be certainly impressed by both the sedan and hatchback versions of this popular model.
The theme of putting all of the elements in the all-new Mazda3 together is "an object of universal desire". And this comes to life because of the free spirit of the hatchback's curved body panels, the sedan's refined & sleek body style and the smoothness provided by the new SKYACTIV®-Vehicle Architecture.
But, let's take a look at every element that makes the 2019 Mazda3 one of the most anticipated vehicles at our dealership serving Wayne & Lodi NJ.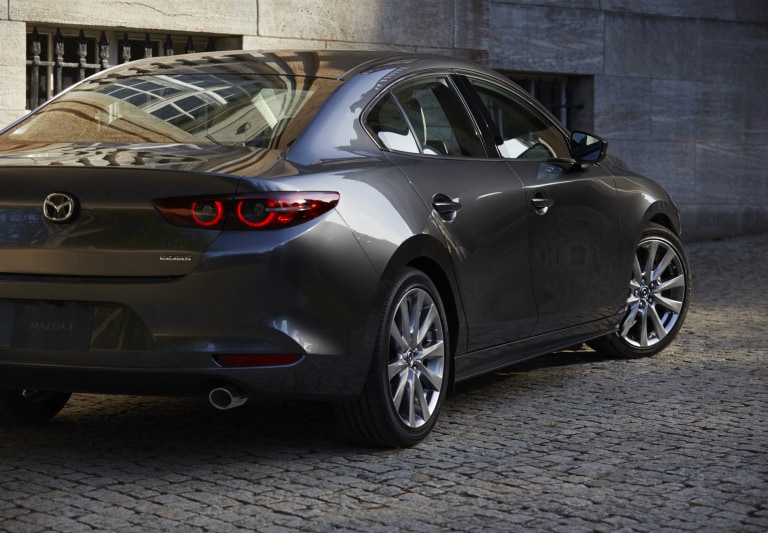 2019 Mazda3 Redesign
The all-new Mazda3 is the next evolution of the KODO Design and plenty of appearance changes help that. The exterior shows off a new rounded lamp design that shaves away the unnecessary elements for a cleaner look for the lamps themselves & the other element of each model.
The hatchback's design concept causes it to look like a single solid mass when viewed from the rear that exudes power and newly developed Polymetal Gray exterior paint color showcases this thanks to its ability to change its appearance depending on the lighting. The Mazda3 sedan's updated design concept can only be described as sleek & elegant by elevating the elements of the hood, cabin & trunk.
Inside, the 2019 Mazda3 provides a "less is more" design with more simplicity. For instance, a 2nd horizontal axis runs left & right from the instrument panel out to the door trim and provides integrated climate-control-panel & passenger-side louvers. New available interior colors include hatchback-exclusive Burgundy and Greige that combined cool-toned gray & soft-feeling beige.
Among the other updated elements you'll enjoy are:
Newly designed shift panel with 2-layer molding (laser-engraved black layer covered by a 2nd clear layer) for a glossy look
Telescopic steering column with an extended adjustment range
Standard front seat cushion tilt capability
An 8.8" wide center display with an easy-to-read Active Driving Display & commander control that uses a new intuitive guidance system
An A-pillar design optimized to minimize its obstruction angle & associated blind spots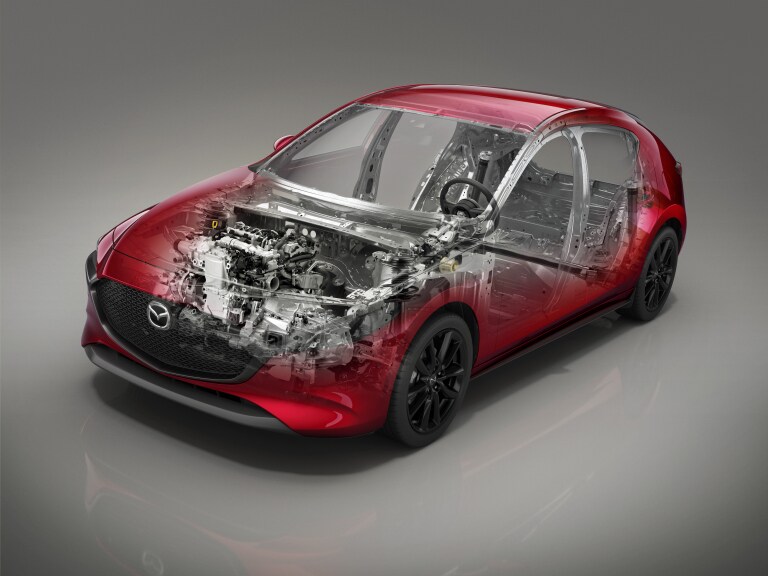 New Options Under the Hood
There are a lot more choices when it comes to the 2019 Mazda3 here at Ramsey Mazda. For starters, the 3 SKYACTIV®-G gasoline engines (1.5L, 2.0L & 2.5L) increase the level of fuel economy, dynamic performance & environmental friendliness since they use optimized intake ports, an enhanced piston shape, split fuel injection & a coolant control valve.
If you want to go diesel, the 1.8L SKYACTIV®-D engine is the way to go since it delivers smooth, robust performance & enhances fuel economy. The all-new SKYACTIV®-X engine becomes available for the 1st-time ever in the Mazda3 and it uses Mazda's new M Hybrid system for superior gas savings while upping the ante for performance driving.
Also enhancing performance in the all-new Mazda3 are:
Available i-ACTIV® AWD with added "four-wheel vertical load" detection for a better response in all driving situations
G-Vectoring Control Plus with direct yaw moment control for superior emergency avoidance, high-speed lane changing & handling on slippery roads
Improved suspension system with MacPherson struts up front & a newly developed torsion beam setup in back
Reduced NVH thanks to a "two-wall" structure between the body & carpeting, sound absorption in the headliner & floor mats and more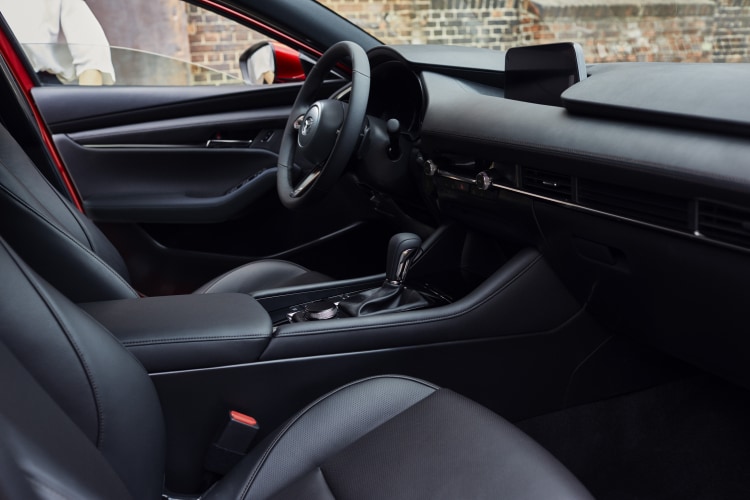 Other Updates For the All-New Mazda3
The Mazda3 has always been known for its safety and the 2019 edition is no different! That's because it not only comes with the vast amount of technologies it's already known for, but adds some all-new features such as an enhanced body with 30% ultra-high-tensile steel, a new perimeter beam & rear side frames to better absorb impact.
Additional safety features designed to protect you during a collision include a new driver's knee airbag, an energy-absorbing inner structure in the hood and a revamped front bumper structure/ But this sedan & hatchback not only minimize injury if an accident occurs, but it works to prevent them in the first place.
The first all-new safety feature is Front Cross Traffic Alert to detect vehicles approaching from blind spots to the right or left of you & warn you that they're coming through an intersection. Cruising & Traffic Support is also added to helps decrease driver fatigue by assisting with accelerator, brake pedal & steering operations while in traffic jams on the NJ Turnpike, Garden State Parkway and other busy roads.
Shop Our Current Mazda3 Sedan & Hatchback Inventory
But we know that driver fatigue can't completed be prevented. That's why Mazda's newly developed Driver Monitoring system is offered and it uses an infrared camera & infrared LED to observe your condition while driving & will alert you when it senses when you're looking too drowsy to continue driving.
There are some non-safety related updates as well, including an improvement in the windshield wiper performance. MAZDA CONNECT™ adds a digital owner's manual app that will explain what's going on when a warning appears in the center display & advises you on the best course of action to take next.
If you love music, then the 8-speaker audio system coming standard & a 12-speaker Bose premium audio system options are available to give you the listening experience you desire. Whichever sound system you pick, the quality of what you're listening to is improved thanks to the speakers being repositioned within the cabin.
Ramsey Mazda will answer all the questions you have about the 2019 Mazda3 even before you make your way to our location just minutes from the Bergen County NJ & Rockland County NY border. Contact our team today to learn more about this innovative sedan & hatchback!